Angel York (she/her) learned to ride a bike in ~1989, joined the Bike Collectives Think Tank Listserv in 2009 and this wiki in 2011. Bikebike.org admin. Bikecollectives.org admin. Wiki Admin. ThinkTank admin. Deeply involed with Bike!Bike! Everywhere!. Trying to connect with the community? Get in touch!
Bike Collectives volunteered or worked for include
Davis Bike Collective, 2008-2012 (including Bici Bici 2011)
Bike Farm of Portland, 2013-2015
Bike!Bike! Everywhere! 2021 - present

Bike!Bike! is an annual conference. The last one was in 2019, before the start of the ongoing [as of July 2023] covid pandemic. There wasn't one in 2020, so I looked around in 2021 and said "hey! virtual conference?", the community said yes, and thus Bike!Bike! Everywhere! was born. We've also been working toward collecting and organizing community resources to make shared ownership, access, and use easier for all.
Community Bike Shops visited include
Bike life outside of community bike shops
Davis, CA
Portland, OR
2020 to present
Involvement in non-bike volunteer-run orgs
Portland, OR
Bike tours longer than a few days, all on recumbents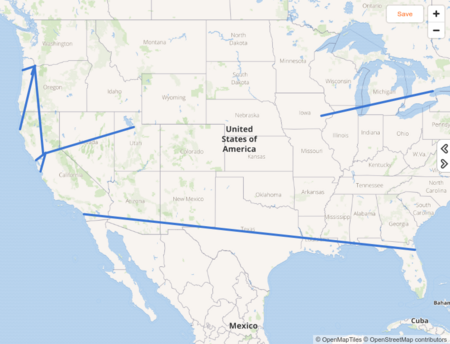 The above map covers trips prior to 2022

Florida to California with Aaron Wickstrom, 2005
Toronto to Iowa with Charlie DeTar, 2006
SLC to Reno to Sacramento to Santa Cruz with Meara McClenahan, 2006
Portland to Davis with April Wick, 2011
North Bay to Sacramento & back, then up to Portland, all with April Wick, 2018
Salt Harvest: Portland to Whalen Island County Campground and back with April Wick, 2019
Hazelnut Harvest: Portland to Salem and back with April Wick, 2019
Bike move: Portland to Ferndale with April Wick. Was supposed to be to Santa Rosa, but we got cut off in all directions by the annual literal apocalypse (see definition 3), 2020
Santa Rosa to SoCal (with a detour through the Central Valley with Meara McClenahan) and back with April Wick, and small dog, 2022
Rides in motor vehicles since June 2018
2018 - Ferry, to get across the SF Bay
2018 - Aerial tram, to get to work once or twice
2019 - Elevator when being escorted to a study (got paid $40 to learn I have a high pain tolerance)
2020 - Used the elevator daily to move a cart at work for about a month
2020 - Elevator in a skyscraper that didn't seem to have stairs
2020 - Bike move got cut off in all directions (except back the way we came) by California's annual apocalypse. Aprils's father picked us up with his pickup truck.
2021-22 - April got an e-assist for the tandem. So any time I'm on the tandem, there's a chance I'm riding a motor vehicle. According to the State of California, it is a class 2 electric bicycle. Great on the knees, rough on my morals, whines like an induction stovetop burner, amazing for intersections.
2022 - April talked me into putting solar e-assist on my Flevotrike. I find myself biking a little harder when I use the e-assist, too, which is counter-intuitive until I think about it, and also pretty neat. Apparently I use the e-assist to... bike as fast as everyone else does without e-assist.
Bikes etc.
Lightning Thunderbolt (2005~2008) - recumbent bike
Lightning Phantom (~2009-2012) - recumbent bike
Burley Taiko (2013-2019) - recumbent bike
Volae Expedition Pro (2020) - recumbent bike
Vision R82 (2018-2020 shared custody) - recumbent tandem bike
Flevotrike (2016-2021 shared custody) - moving bottom bracket recumbent trike. NOTE: this bike can be rough on the ulnar nerve if you have ulnar nerve issues.
Bikes at Work 96A Bicycle Trailer (2015-present shared custody) - utility trailer
Semi homebuilt tandem recumbent with sail and now e-assist (2021 shared custody)
Flevotrike (2022-present) - this is the same trike listed above. But April extended the frame, replaced the trunk, built dog basket to my copilot's exacting specifications, added e-assist AND dynohub, replaced the axle and bottom bracket shell, added overhead solar panel. It's only technically the same vehicle. And custody is no longer shared. It looked like a golf cart with solar and pedals, but it was too top-heavy. So now the solar panel has its own Burley flatbed.
Not listed: various other Burley-type trailers.
My friends on the wiki (add yourself!)
Comments
Tell me about your bike collective! And/or your experience with bikes! --Angel York (talk) 16:35, 8 March 2016 (PST)
Hey look, a job board! "The RAR Jobs Board is a job listing to increase hiring for BIPOC and FTWN-B folks in the cycling and outdoors industries." [note: the FTWN-B means femme, transgender, women and non-binary.] --Angel York (talk) 10:36, 30 June 2021 (PDT)
Hey look, another job board! When jobs get posted to the ThinkTank, they can now get cross-posted here. --Angel York (she/her) (talk) 14:31, 2 May 2022 (PDT)