Tool Peg Board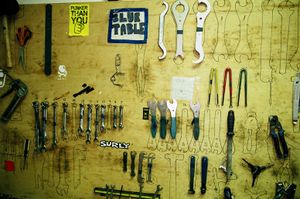 One of the most common ways to keep tools is hung on boards with an outline traced around each tool so it's easy to spot which one is missing. If your shop has multiple workbenches, tools may be taped with different colors to identify which work bench they belong to.
Advantages
Tools are easy to see. A shadow board easily tells guests name of tool and instructor can see if tool is missing.
Cheap: the only cost is nails if lumber is donated or salvaged.
The fastest tool storage method to use when you have to find a tool.
Familiar and easy to learn the way around it.
Disadvantages
Theft easy since all tools always on display.
Not that versatile once all area has been used up.
Not portable. In fact, they should be very sturdily built.
Canvas Tool Rolls
Advantages
Portable

These roll up nicely and out of the way.
Flexible shape can be installed on fences, tables, anyplace for off-site events.

Displays tools like a tool board and stores them like a tool box.
Can be easily color coded. Portable.
Can be custom made for the needs of particular workshops or tool sets.
Disadvantages
Fabric construction is often hard to clean and rapidly becomes disgusting looking.
Fairly expensive—more so than tool boxes.
Finite durability.
Portability: ease of theft as tool box…
Tool Boxes
Advantages
Containers can be coded to match tools so it is easy to make sure that the tools are there.
Toolbox can be equipped with a sign in sheet on laminated paper so that tools can be checked before and after class.
Easiest form of tool storage to put tools away in.
Highly portable.
Can contain compartments for parts too.
Disadvantages
Tools not visible once put away.
Tools hard to find if the box is crowded.
More expensive than tool board.
Portability=ease of theft as an entire unit!
Free Ride checks out tool boxes containing a set of combination wrenches (8-15mm), 2 screw drivers, 3 allen keys, a 3-way hex socket, and a 3 way allen key. They also keep IDs as collateral and make sure everything is there when its returned. This has significantly reduced the number of wrenches that wander away from the shop. It's also a good way to limit the number of people in the shop at any given time.
Wall tool cabinet
For all those special tools - you don't want to lose. cost was about $20 for lumber. 1 inch plywood for back- frames in by 1x6. doors 1x2 framed around 1/2 inch ply. lay out your tools while cabinet is flat then fix on wall. Keeps them from banging around and safe.