Learn how to fix your bike and explore the city by bike. Buy a refurbished bike, or donate a disused one. Meet other cyclists, and help us advocate for a vibrant city.
Whether you ride once a week, 265 bike-friendly days a year, or year-round, Bike Edmonton gives you the tools you need to enjoy cycling. Established as the non-profit Edmonton Bicycle Commuters Society in 1980 and now called Bike Edmonton, we operate two volunteer-run community bike workshops, provide cycling education for people of all ages, host events with community partners year-round, and represent you at City Hall.
Contact Info
Mail
Bike Edmonton
Box 1819 Station Main
Edmonton AB T5J 2P2
E-mail
info@bikeedmonton.ca
Location
Bike Edmonton South Community Workshop
8001 102 St
Edmonton AB
T6E 4A2
780-433-BIKE (2453)
Bike Edmonton Downtown Community Workshop
10612 105 Ave
Edmonton AB
T5H 0L2
780-433-BIKE (2453)
Transit
Nearby bus stops to Bike Edmonton South Community Workshop are:
2723 (westbound on Whyte Ave) and 2864 (eastbound) [Routes 4, 7, and 94].

Nearby bus stops to Bike Edmonton Downtown Community Workshop are:
MacEwan LRT Station
11301 (eastbound on 105 Ave) [Route 7]
1605 (northbound on 109 St) [Routes 7, 8, 15]
1557 (southbound on 109 St) [Routes 8, 15]
1989 (westbound on 104 Ave) [Routes 2, 7, 8, 15, 111, 112, 560]
1824 (eastbound on 104 Ave) [Routes 2, 8, 15, 111, 112, 201, 208]
Website
History
https://bikeedmonton.ca/history/
Services Offered
Community Bicycle Workshops
Bike Edmonton Downtown and Bike Edmonton South are fully-equipped, volunteer-run community bike workshops. We have all the tools (including specialty bicycle tools) needed to repair and maintain your bicycle, and mechanics to teach you how to do it. We also have a vast selection of used and new parts and bicycles available for purchase.
Recycling
Bike Edmonton's mandate includes recycling. We accept donations of bicycles and parts, and will refurbish, reuse, and recycle them. We recycle metal as well as rubber (tubes and tires).
Cycling education
We offer courses for adults to learn to ride, children with special needs to learn to ride, as well courses on on-road cycling for cyclists of all ages and skill levels (emphasizing riding safely and effectively). We also offer basic mechanic courses, specialized courses (e.g. wheel building), mechanic training courses (to become a mechanic), and topical courses (e.g. introduction to winter riding).
CAN-BIKE courses are offered through Bike Edmonton. The Canadian Cycling Association's CAN-BIKE program are courses oriented toward recreational and utilitarian cycling, focused on cycling safely and enjoyably on the road. The CAN-BIKE cycling safety program provides a nationally standardized set of courses that can be taught through a variety of organizations who are interested in education, safety and health.
CAN-BIKE Instructors are nationally certified highly skilled cyclists and instructors.
Ghost Bikes
Ghost Bikes are small and somber memorials for bicyclists who are killed or hit on the street. A bicycle is painted all white and locked to a street sign near the crash site, accompanied by a small plaque. They serve as reminders of the tragedy that took place on an otherwise anonymous street corner, and as quiet statements in support of cyclists' right to safe travel.
Bike Edmonton sets up ghost bike memorials around the city as tributes to individuals, and reminders to all cyclists and drivers.
The Spoke - Youth Earn-a-Bike Program
We offer a youth earn-a-bike program called The Spoke.
Women, Transgender, and Gender Non-binary Program
We offer WTGNB programming.
Other services
For a full list of services, please visit [1]
Some examples include:
Low-cost bicycles (typically between $40-120)
Bike cargo trailer rental
Bicycle rental
Secure bicycle parking at events around the city
Advocacy for cyclists
Education
Resources for replication and distribution
All dollar amounts are in CAD unless explicitly stated otherwise.
Shared resources can be found here.
Incorporation
We are incorporated as a society under the Alberta Societies Act. We do not pay income tax, and receive a property tax exemption from the City (coordinated through our landlords). We are not a registered charity, and are unable to issue charitable tax receipts.
Bookkeeping
We use Quickbooks Online.
Floor plans
Bike Edmonton South Community Workshop
Opened 2014
Bike Edmonton Downtown Community Workshop
Opened 2020
Bike storage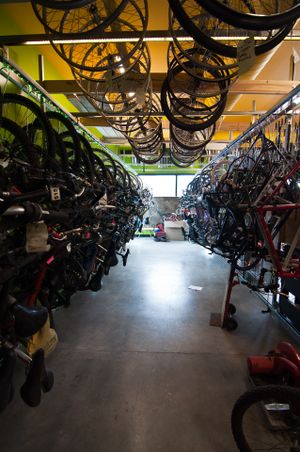 We use Dero Track Rack (ceiling mount), mounted on a steel framing strut channel structure (see floor plan for detailed assembly). Track racks cost about $600 per section (each section holds 13 bikes), and we ordered from Habitat Systems in Canada.
Strut channel can be purchased locally from hardware suppliers, in small quantities for about $30-40 per 10 ft section. We acquired much of ours as donations from a local business that was relocating/renovating.
Flooring
We have bare concrete floors in the workshops. We use antifatigue garage tiles over cheap carpet overlay (from Rona) under work benches. Our south shop has tiles from Swisstrax, but any equivalent option would work. Our downtown location has tiles liquidated from a commercial bike shop.
We use dollies to roll repair stands out of the way when we want to convert our shop space into social spaces.
Parts storage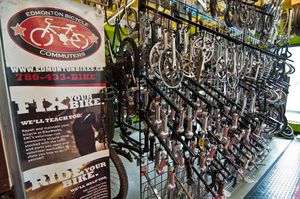 We mount 8x4 gridwall panels on the outside of our unistrut bike storage structure. Standard gridwall fixtures are then used for parts storage. In particular, 5-hook waterfalls are extremely useful for hanging handlebars, stems, cranks, chainrings, and more. (See shop photos above.)
Much of our gridwall and fixtures was acquired for free from businesses that renovated or closed, but can also be purchased from local retail fixture supply stores/warehouses.
Printing
Membership database
Web hosting
We run our CiviCRM and other apps on a DigitalOcean droplet, which costs $10 US/month.
Our primary website is hosted on Squarespace.
POS
We use Square Register for our POS and inventory management, as well as online webstore, but we don't use square for processing in-person payments.
We have regular credit card terminals supplied by our bank. We pay about 1.5% in fees using this system and about $20/month for the terminals, rather than 3%+ that Square Register would charge.
Phone & internet
Our internet is provided by Shaw, and costs about $75/month per location.
Our phone is VOIP, provided by RingCentral, and costs about $1100/year total for two lines. We could probably get cheaper than that with someone else. We use analog telephone adapters (ATA) that plug into our internet router, and then plug into a regular phone jack (disconnected from the telcom, but connected throughout our space), which allows us to simply plug regular analog phones and our security system into the phone system.
Voice mails are automatically sent as emails with voice-to-text, so we can read them from our email.
We have an automated assistant menu that answers and filters all our calls so we don't have to answer as many voicemails.
It also lets us set up phone extensions that go to external personal phone numbers at no extra cost (we can set the hours on extensions, so they go straight to voicemail outside of those hours).
Text messages are also received as emails. We can also send and receive text messages with our business number through a web page and/or phone app.
Digital documents
We use Google Workspace for Nonprofits and organize all our documents in Google Drive for free.
Security
We have Nest cameras and Ring security, including door and motion sensors. Due to repeated break-ins, including multiple broken large glass windows, we also have bars across the interior.
A Nest subscription allows 30 day video event history from multiple cameras for $80/year.
Popcorn machine
We bought a popcorn machine and rent it out to businesses, student groups, and even individuals hosting parties. It feeds volunteers, supports social events (e.g. movie nights), and after only a few rentals, has paid for itself.
Bike Parking
Suppliers
See Also