UK Bike Gathering is a place for community and not-for-profit bike collectives and other bicycle projects to meet. In 2011 it was held in I Bike MCR in Manchester (in the summer) and The Bristol Bike Project (in the winter). In 2012 it is being hosted by Pedallers Arms in Leeds.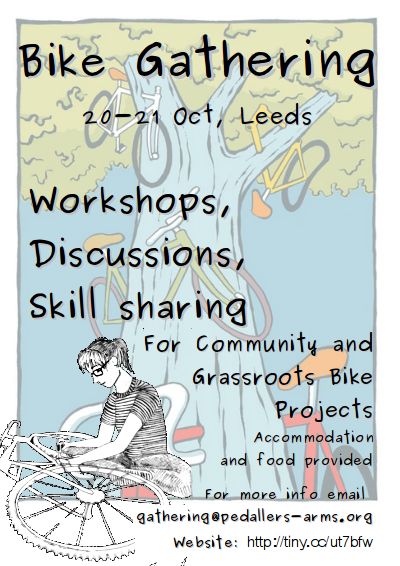 or here for a pdf version.
Food
Vegetarian and vegan will be provided for lunch (Sat and Sun) and tea on Sat, if you have any other dietary requests please let us know.
Workshops
Workshops will start noon Sat - 3pm Sun but we will have somethings going on if you get here earlier. Please add your planned workshop here, there will be tools available if needed. (name / host / duration):
Saturday
Time
Name
Host
11:00
Arrivals, coffee, open discussion ideas
12:00
Welcoming and Housekeeping
Pedallers'
12:20
Updates and stories from different projects
Everyone
12:50
How to get the most out of your communications
Beyond the Usual Suspects
13:30
LUNCH
14:30
Tall Bike Welding OR Bike Ride
Pedal MCR OR Pedallers'
16:30
Setting up a Bicycle Film Society
Hackney Bike Workshop
17:15
BRAKE
17:30
Building bikes for underprivileged groups with focus on folk seeking asylum
Sheffield
18:30
Management of a bike project - Skillshare on ways we keep track of people, money, stock
Pedallers'
19:30
DINNER
20:30
Bike films/night ride/ pub
Sunday
Time
Name
Host
9:30
Arrivals and coffee
10:00
Cyclocamp photos and Q&A
Hackney Bike Workshop
10:30
Open Space
11:30
Sustainable Volunteering Discussion
Pedal MCR
12:15
Upskilling: Sharing Skills Amongst DIY Service Providers
Broken Spoke Co-op (Oxford)
13:15
LUNCH
14:00
Open Space
15:00
Feedback and close
15:30
An international DIY biketour project: something for the summer...
Ecotopia Biketour
Accommodation
We will be able to find a place for you to stay, please email us at gathering@pedallers-arms.org with any details relevant.
Evening Activities
To be decided.
Travel Pool
There will be a travel pool to spread the cost.